On Your Way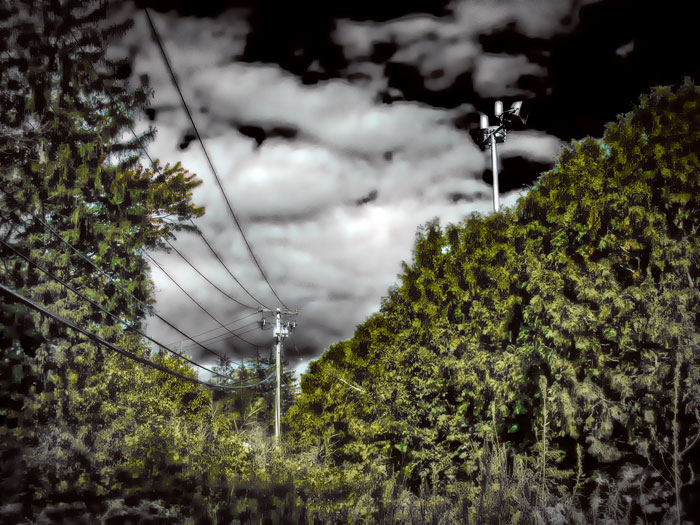 Back to the service center at the car dealership. I figure they're my best bet for an explanation as to why every warning light on my dashboard is wildly flashing like a Reno slot machine. Oh well, maybe I'll hit the jackpot this time. Maybe they'll be able to fix things, once and for all. The service representative knows me by now and greets me heartily. I give her the keys and she says: "I'll page you when we know something. It may take a while. You can have a seat in the service lounge and wait." No thanks. I walk outside and head across the busy street to the diner.
"Back again so soon?" says my server with more cheer than necessary. It's the same guy who served me last week. "What'll you have, the usual scrambled eggs?" I am both heartened and depressed at the thought that I am now considered Stammtisch at this diner. What will they say down at Pandora's Tavern? I order my scrambled eggs. They're delivered pronto and I'm done with them before anything else worth writing about happens.
Outside the diner and with nothing better to do, I have a look-see around back. Nothing of interest here except a high fence. On the other side is tall brush and leafy obscurity. Attached to the fence is a faded sign: "No Trespassing". It hangs loosely by a single wire. I climb over the fence. Why not? I bushwhack through billows of briers tangled with hairy vines bearing large clusters of sinister-looking seed pods. I look up and spy overhead wires. A powerline corridor. It hasn't been trimmed in a long time. Maybe the utility company has forgotten about it, but the wires are still live. I can hear them crackling. I wonder where the power comes from. I wonder where it goes. Who knows? I take a picture and return the way I came.
Back at the dealership, I take a seat in the crowded service lounge. Nobody notices my arrival. They're all looking at their phones. Or the TV. One guy is fiddling with the complimentary Keurig coffee machine. He has no idea how to make it work. I don't either, but having nothing better to do maybe I'll lend him a hand. As I get up, I discover that my jeans are barnacled with dozens of thistle burrs. I sit back down and start plucking them off. This takes a while. By the time I finish, the guy at the coffee machine has given up and gone away.
Now the mechanic assigned to my car walks in. He comes right over and greets me heartily. I guess I'm Stammtisch here too. He carries with him a thick sheaf of papers. He launches into an elaborate explanation of what's wrong with my car's electrical system. Something about a computer and the dozens of sensors attached to it. He says he's performed a complete diagnostic. He flips through his sheaf of papers and points to various items. I pretend I'm following along. The things he says are impressive as they are arcane, the sort of language that tells you've been delivered into the proper hands. And there's no going back.
At the appropriate moment, I say the same thing to the mechanic as I might to a doctor: "So is everything gonna be okay?" That's when a vast chasm of dread abruptly opens wide. You may be familiar with it. If you're lucky, you only ever catch a glimpse of it. And that's all I get today—just a glimpse. It closes immediately when the mechanic says: "It'll be fine. We just need to reboot a few sensors. Then we'll get you out of here and on your way."