Moral Courage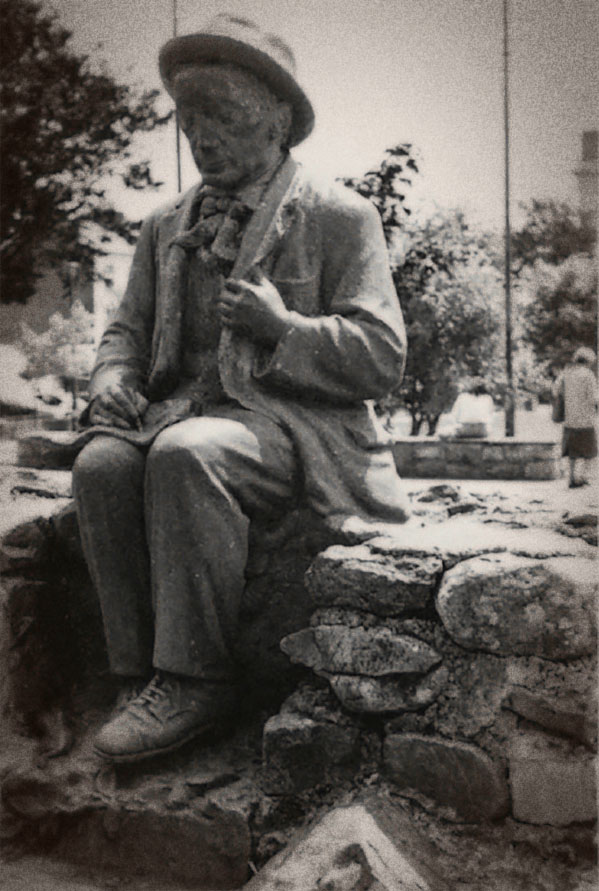 It's an early morning in 1985 on Eyre Square in Galway, Ireland. I'm sitting near the statue of the writer Pádraic Ó Conaire. I'm eating my breakfast of brown bread and milk as I peruse the Irish Times. The whole lot cost me less than a pound at a corner shop. I'm ready to enjoy a little peace and quiet along with my breakfast. That's when a dreary old man approaches in a dreary sway. Looks like he sleeps rough, as they say. He looks like he's ready to have a word with someone. I hope it's with the statue. "Good morning," he says to me, not the statue. I look up from my Irish Times and say hello.
He gets right to the point. "I had a bit of bad luck last night. Could you spare a few shillings?" I'm too young to have any shillings. So I give him 50p instead. He thanks me and quickly takes his leave. I go back to my breakfast and paper.
Not five minutes pass before another dreary old man—remarkably similar to the first—approaches in another dreary sway. "Good morning," says the new old man, again to me and not to the statue. I look up again from my Irish Times and say hello.
"What's in the news this morning?" he asks.
"Same old thing," I say.
"Oh, it never changes now does it? Sometimes a body would think he'd be better off if he couldn't read altogether, don't you?"
"I dunno," I say, "A body would still have ears and hear all the news going around, wouldn't it?"
"People look to the news for all manner of thing," he says. "Now as for me myself, all I'm looking for is the price of a drink. That's all, the price of a drink. Have you a few shillings to spare? That's all I ask is a few shillings." Again with the shillings. I must look old or something.
I give him 60 p, the last of my change. He is happy with that. Then I ask him if he'd like some bread. Big mistake.
"You offer me food! Everyone offers me food! Look around this square. All the free meals a body could want, right here. Walk into any restaurant you see and talk to the manager. Tell him your tale of woe. You'll get a free meal."
He pauses to look at the loaf of bread on my lap. Then he resumes.
"A whole bag of sandwiches, if that's what you want. Bags and bags of them! Nobody starves in this country, not anymore. But a body would die, die of thirst, like myself."
Again he pauses. This time he scowls. Then resumes.
"Milk! I see your pint of milk! Now if you were to go down to where I live"—he points vaguely in the direction of the bay—"you could walk in and tell them your tale of woe and come out with two pints of milk—or as many as you could drink—for nothing. Nothing! All free! But a drink, the kind of drink a body is looking for, a real drink—a body would fade away before ever seeing one of those served up for nothing. But that's what I do—I look long and hard for what I want. I know a thing or two about moral courage."
Another pause. Another scowl. Then a conclusion:
"You paid money for that bread and milk and newspaper, didn't you? If you had the moral courage to ask people for what you want, you could get yourself a real meal from any one of these restaurants. For free! But you sit there all paid for, eating your bread and drinking your milk and reading your news while I go about the square asking for help to get a real drink. Good day at you." And off he goes.