Independent Living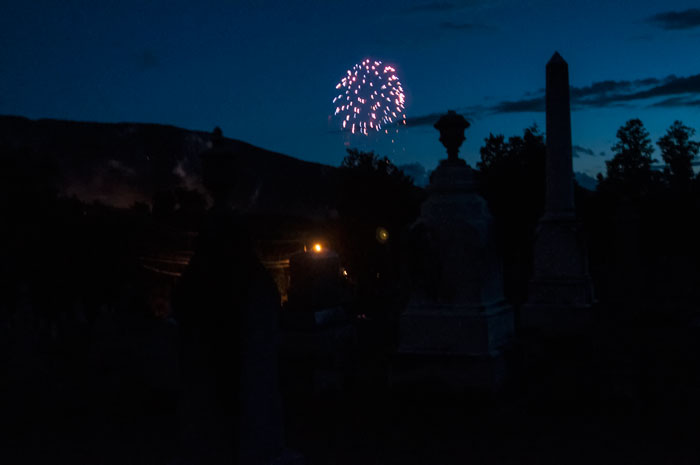 In the supermarket, a woman and several children are filling their shopping cart with hot dogs and chicken and pickles and beer—lots and lots of beer. "Where's the whiskey?" asks one of the smaller children.
"Shut up," the woman explains. "We have to go to the liquor store to get that." She turns to one of the boys, apparently the oldest—maybe around twelve—and says: "Mason, go to that bakery counter over there and pick out a cake for grandma."
Mason is none too happy about being ordered around, even though he looks like he enjoys cake. "I wanna get the whiskey," he says.
"There's no whiskey in here! Now go get that cake!" Mason shuffles off to get the cake.
The woman sees me looking at the scene and says: "Grandma's in a home." As if that explains anything. I nod as if it does. We go our separate ways.
I run into the family again at the checkout. They are ahead of me in line. Their cart is filled to overflowing with enough stuff for the next decade of Fourth of Julys. Mason is standing there behind the woman. She's unloading the cart. He's holding a plastic cakebox. I am going to be here for a while.
To kill time, I consider flipping through one of the tabloids at the head of the checkout. The first one I spot has a headline: "Proof it was Murder!" I don't need any proof. I'll never understand murder. Instead of the tabloid, I just watch the woman excavate her cart onto the conveyor belt. Nothing among those items interests me, not even the beer. I don't understand Michelob Light.
The cart is finally emptied. The woman turns to Mason and says: "Gimme that cake." He does. She takes a look at it and scowls. "What the hell kind of cake is that to be giving to your grandma on the Fourth of July?!" Mason shrugs. The woman thrusts the plastic cake box at the checkout clerk and says: "I don't want this." She pays for the rest of the stuff and that's it. She and the family head off into their Fourth of July.
Soon enough I'm heading off into my own. But not before the checkout clerk asks me: "Do you want a free cake? We're just gonna have to throw this one away." He holds up the plastic cakebox. Through the top I can see the words: "Get Well Soon."
"No thanks," I say. "I don't much enjoy cake." As if that explains anything.