Heading Home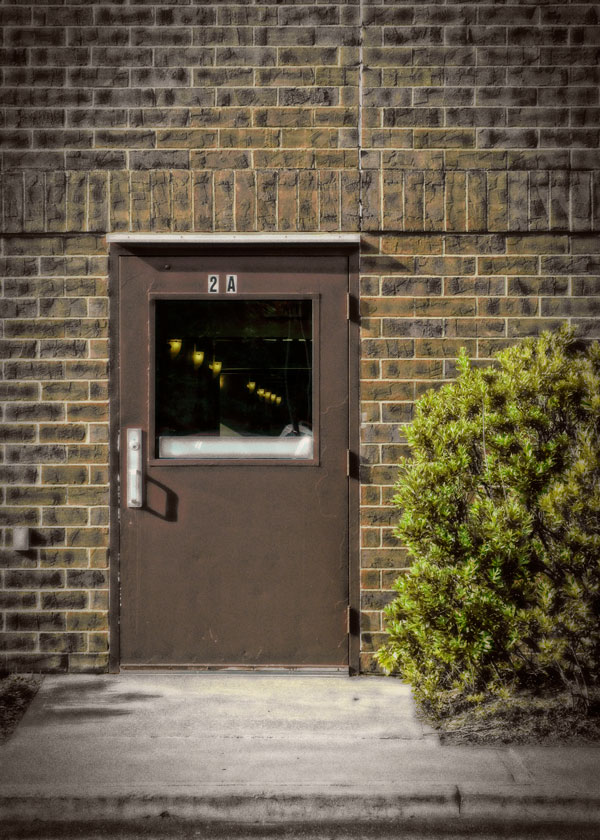 Excursions end somewhere. Sometimes at the door of a skilled nursing facility. I'm scouting out this one for the collie. The plan is one day he'll become a therapy dog. Then we'll go visit area nursing homes, the Veterans Hospital, and maybe some schools. To see a collie makes most people happy—unless it happened you were knocked over by one when you were a little kid. But mostly collies make people happy. Those of a certain age inevitably exclaim: "Lassie!"
This collie of mine, regrettably, is still a long ways from passing any therapy dog certification test. He loves nothing more than to bark enthusiastically, relentlessly, at anybody he sees. He barks and he barks and he barks—until he can get close enough to jump up and plant his muddy forepaws on your shoulders. And then—if he's lucky and you're not—you are knocked to the ground and he proceeds to lick your face off. I know, I know, this says more about me than it does about him, but what can I say? I'm a bad collie trainer.
Anyway, the collie isn't with me on this hot Sunday afternoon in early summer. I'm just driving around when I spot this nursing home sitting out there in the middle of a former cornfield. On impulse, I pull in and park. The lawn and shrubs are neatly manicured. A faux marble bench sits empty in full sun. Not a soul in sight. I walk through a door into the facility. This is probably not a good time to visit.
"Indeed, it is not," says the officious receptionist when I present myself. She is dressed for business and sitting behind her desk. Her smile is sweet as cyclamate, and just as phony. Nearby, plopped in a folding metal chair, is another woman, equally officious-looking but without the smile. She is wearing designer scrubs. The two of them were probably just killing time together. I can smell it.
"You can't go in there," the receptionist warns me. "The residents are being fed right now. Then they get their medications and are put to bed. And of course there are privacy issues." I nod in solemn agreement. "Call back on Monday and speak with our director. She's in charge of the facility tours." The receptionist writes down a name and number on a piece of paper and hands it to me. I put it in my pocket and bid adieu. I don't even mention the collie.
"Wait a minute!" the receptionist calls after me. "You can't go into the long term care facility in this building, but our assisted living units are just around back. You can go in there. Nobody will care. It's exactly the same layout as our set-up here—except for one thing. Do you know what that is?"
I say I have no idea, and mean it. The woman behind the desk turns to the woman in the folding metal chair and says brightly: "You know what it is!" Now smiling herself, the woman is nodding eagerly. In unison, the two of them sing out: "The ice cream parlor!"
"Wow," I say. "I'll have to check that out."
I bid them adieu once more and head out to the parking lot. It's hot as hell in this place. I sure could use some ice cream. But not here. Not right now. Maybe I'll stop someplace on the way home.