A Train of Memories
Sometimes when I have a little extra time, I just get into the car and start driving around looking for lost time. I never know where these junkets might lead. Yesterday, for instance, it was rainy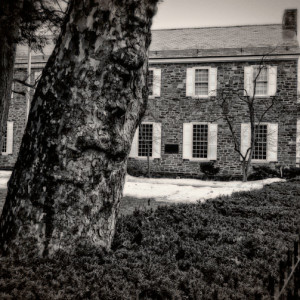 and cold. I drove down the mountain and wound up in the old part of the city of Kingston. This was once the capital of New York, before the British burned it down. That was a long time ago. To judge from all the historical markers, it seemed a promising place to look for lost time.
Alas, little was happening on this bleak March morning in Uptown Kingston. Blackened berms of senescent snow separated sidewalk from street. Nobody was out and about. I found a place to
park on Wall Street. A meter was poking up from the grimy snow like a forlorn stele. I fed it some coins. It was on the blink. The rain started coming down colder and harder. It dampened my spirits. I took a snapshot of a historic building. The sign explaining its significance was too far away to read. I got back in the car and left.
The route home led through a malled-over stretch of landscape north of the city. Big box stores lined the highway. I had strayed into the Woodlawn of Conspicuous Consumption. At a certain point, a traffic light required I stop. With nothing better to do while waiting for the green, I looked out through the rainy windshield upon a scene of sooty tumuli. Many were the signs in this dismal location. Most of them were official, though a couple were fetchingly vernacular. A yellow placard posted near the ground advertised an upcoming "Model Train and R.R. Hobby Show". I myself have no interest in model railroading—yet this ordinary-looking sign took fierce possession of me. Suddenly I was recalling a day from fifty or more years ago when my father took me to a model train show in the subterranean depths of a gloomy VFW Hall somewhere in New Jersey.
We walked into the cold building from a cold March rain. We joined a line of somberly dressed men all smoking cigarettes, and slowly descended a dim flight of stairs. As my eyes adjusted to the smoky shadows, I could see below, spread out across the entirety of the cavernous cellar, a miniature landscape of dark green trees and quaint villages, dairy farms and tunneled hills. Tying it all together in a web of Lilliputian commerce was an extensive layout of diminutive tracks along which ran a lengthy train of boxcars, tankers, covered hoppers, passenger cars, centerbeams, and gondolas, as well as a tender and a caboose. All of these were drawn by a powerful little black locomotive pumping out billows of real steam while occasionally letting rip an ear-piercing whistle when passing a station platform or a siding lined with warehouses and creameries. In the villages themselves, tiny painted human figures could be seen walking the pleasant village streets, or playing in the schoolyard, or working on the railroad—everybody and everything, except the train itself, frozen in an ideal moment of postwar pre-superhighway America.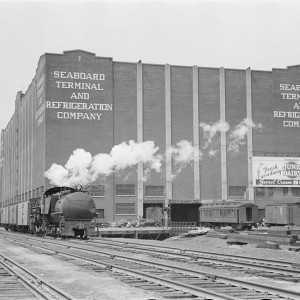 What happened next I cannot say, as this memory suddenly gave way to another: Of an old red-glassed railroad lantern that used to hang inside our barn. It belonged to my father's father, who worked for the railroad for more than thirty years. He was one of the "Men of Erie." He was employed at the old Seaboard Terminal, down by the waterfront in Jersey City, where a great portion of Manhattan's milk and dairy products used to be delivered daily by rail and then barged across the Hudson. Somewhere I have an old photograph of his retirement party—held in another VFW Hall—shortly after I was born. Nobody in the photo looks very happy, least of all my grandfather. I don't know much about the details of his working life on the railroad, except for a story about the time, on a coworker's challenge, he swam across the Hudson River from the docks beyond the Seaboard Terminal to the wharves of Manhattan. Who knows how he got back. I can't recall the last time I saw that railroad lantern—it's been many years now—but the arrival of this memory made me miss it.
Just then I could feel another memory pushing its way toward the platform, another image of lost time just trying to catch the train. But the traffic light had finally changed to green. The train was departing the station. From the passenger's window, an almost familiar figure could be seen receding into the distance.