A Nursery Story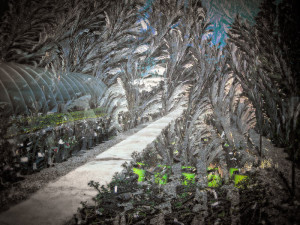 A nice sunny day in early May. The air was redolent with fragrant promises. The sky was blue. I felt like buying a new lilac shrub, so I drove down the mountain to the nursery. It was either that or go visit an old cemetery. I don't know what the connection is here for me—lilacs and cemeteries—but it's probably harmless, unlike a lot of the other connections in my life. Maybe something like this happens to you too. Maybe you have fallen in love. Maybe you have lost somebody dear. Maybe you have suffered something that can't be framed in words. I don't know.
Anyway, I arrived at the nursery and picked out a lilac. I lifted the plastic pot that contained it and placed it on a fancy metal cart with rubber wheels and started pulling it along the garden path. I'm no gardener but right then I felt like one. That joy didn't last long. I lugged the cart with my lilac all around the nursery—amid flowering plums, budding azaleas, and slumbering dogwoods—looking for the checkout stand. But I couldn't find it. I felt like such a garden rookie.
At last I spotted a building with a stream of customers towing their carts inside. This had to be the place, but I wasn't sure. I parked my cart and went in to check things out. Standing in the doorway, I beheld a long line of customers and carts laden with blossom all leading to a single cashier stand. The scene evoked images of tollbooths and angry traffic along the Garden State Parkway, only things here smelled a lot better. That's when a voice behind me growled: "Are you the line?"
I turned to find a stout man with a diminutive mustache glaring at me. He was sporting a railroader engineer's hat and pulling a cartful of buttercups and forget-me-nots.
"I'm not sure," I said to the surly, middle-aged man hauling a flatcar of posies. "Is this the line?"
"Yes," he said, "this is the line." He sounded like he was trying to mimic me. Then with a mock-magnanimous sweep of his arm, he added: "And it forms right behind me."
I was at a loss for words in the face of such unexpected rudeness. Unusual for me. So I just looked at his flowers for any clue they might offer as to the man's disposition. Maybe his mother had sent him here to procure some brief beauty. Maybe he had a grave to flower. Maybe his being cross had no reason at all. I don't know. "Okay," I said to the man, and walked back outside to my cart.
What to do now? I didn't want to go back in there with my lilac and have to stand behind that nasty man for the time it would take to reach the checkout. So I chose to linger among the lavish blooms of some nearby magnolias. That's where one of the nursery workers spotted me and came over and asked if I needed any help. I told him all I wanted to do was pay for my lilac and go home and plant it.
"Oh!" he said, "I can help you with that!" He pulled out an electronic device and scanned the lilac's tag and my credit card. The transaction was complete.
I headed home. As soon as I arrived, I planted my new lilac in front of the house. I'm looking at it now. It is beautiful.